Why an Attorney Is Important When Filing for Bankruptcy
Aug. 25, 2023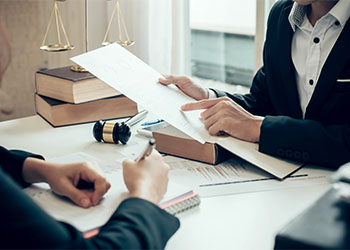 Filing for bankruptcy can help individuals, families, and businesses going through financial difficulties to achieve debt relief and settle disputes with creditors. However, bankruptcy often involves several complex stages, and going through the process alone is never advisable. There are options for help—such as hiring an experienced attorney—for the best possible results.
Attorney David K. Blazek at The Law Offices of David K. Blazek, P.C., happily advises and guides consumers through the complicated procedures involved in bankruptcy. As a seasoned Florida bankruptcy attorney, David can tell you about your available options and decide the right chapter for your financial situation. Also, Attorney David K. Blazek can help file your petition and walk you through the bankruptcy court proceedings. The firm proudly serves clients across Tampa, Jacksonville, Orlando, and Miami, Florida, as well as Atlanta, Macon, and Columbus, Georgia.
Benefits of Bankruptcy
Bankruptcy is a legal process that helps debtors discharge or repay some of their debts, achieve financial relief, and resolve issues with creditors. Here are some benefits of filing for bankruptcy:
It helps you get financial or debt relief.

It saves you the stress of dealing with several creditors.

It protects you from further legal or debt collection action from creditors.

It helps protect some of your property and assets.

It activates an automatic stay order which can protect you from creditor calls, harassment, wage garnishment, and foreclosure or repossession of your home or car.

It allows you to settle your debts for less than the amount you owe.

It helps eliminate some of your debts (general unsecured debts).

It gives you the needed financial clean slate or a fresh start.
If you're going through financial distress and considering filing for bankruptcy, you need to speak with a dedicated bankruptcy lawyer right away for proper guidance.
Why You Should Hire a Bankruptcy Attorney
Here are some reasons to retain a competent bankruptcy lawyer to assist with your bankruptcy filing: 
Planning  
Consulting with a seasoned attorney when planning for bankruptcy is imperative. Your legal counsel can examine your financial conditions, assess your debts, and explore your bankruptcy alternatives. Also, your attorney can help you understand the benefits and downsides of each bankruptcy option and decide the ideal bankruptcy chapter for your unique financial situation.
Preparation  
Once you proceed with your bankruptcy petition, a lawyer can help you prepare accordingly. Essentially, your attorney can assess the value of your assets, identify non-exempt assets, and determine the property exemptions that are available to you. In addition, your lawyer can decide whether you're eligible for Chapter 7 or Chapter 13 bankruptcy, as well as the debts that will be eliminated or repaid in bankruptcy.
During the Process  
A dependable lawyer can walk you through the bankruptcy court proceedings after filing your petition. Your attorney can assist with various tasks such as submitting the necessary documentation, representing you in court, attending creditor meetings, and negotiating a reasonable repayment plan with creditors. Your legal counsel can protect you from creditor harassment, help settle all eligible debts, and receive your bankruptcy discharge.
Guidance After Bankruptcy
Finally, your legal representative can help outline a strategic plan for life post-bankruptcy. Your attorney can offer professional advice and guidance about how to maintain your job and home, keep a bank balance, rebuild your credit rating, and avoid potential pitfalls. With a trusted lawyer on your side, you can achieve financial relief and avoid possible setbacks.
Common Pitfalls Without an Attorney 
Conversely, if you fail to hire an attorney for your bankruptcy case, here are some of the things that might happen:
You may select the wrong bankruptcy chapter.

Your assets and debts may be classified incorrectly.

You may run up your credit card debts.

You may not qualify for the ideal bankruptcy.

You may fail to exempt property in Chapter 7.

You may sell or transfer assets before filing bankruptcy.

You may file your bankruptcy petition at the wrong time.

You may leave out some debts and assets in the bankruptcy filing

You may fail to comply with the state's procedures, requirements, and rules guiding filing bankruptcy
An attorney can guide you through every phase of bankruptcy proceedings and protect you from any of the aforementioned mistakes and pitfalls.
Representing Clients With Care
Filing for bankruptcy in Florida usually involves a lot of complex procedures and paperwork. Nonetheless, hiring a seasoned bankruptcy attorney can help ensure a hassle-free and successful filing. Attorney David K. Blazek is poised and ready to assist and guide clients in their bankruptcy filings. David will help you prepare for bankruptcy, guide you through the legal process, and craft a solid strategy to boost your credit and gain financial stability.
Contact The Law Offices of David K. Blazek, P.C., today to arrange a simple consultation. Attorney David K. Blazek has the personalized guidance and reliable advocacy you need to make crucial decisions in your bankruptcy matters. The firm proudly serves clients across Tampa, Jacksonville, Orlando, and Miami, Florida, as well as Atlanta, Macon, and Columbus, Georgia.