Bankruptcy & Divorce: What You Need to Know
Sept. 30, 2022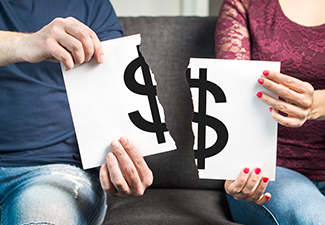 Bankruptcy and divorce are among the most overwhelming experiences anyone can go through. Regardless, filing for bankruptcy may be a promising option – for individuals who are facing a divorce and also have huge debts – to achieve financial relief and reduce stress. However, proper timing is crucial. A knowledgeable Florida bankruptcy attorney can enlighten you about how divorce and bankruptcy affect each other and help determine the best course of action.
The Law Offices of David K. Blazek, P.C. is dedicated to offering experienced legal guidance and reliable advocacy to clients in bankruptcy and divorce-related matters. Attorney David Blazek is available to discuss your unique financial situation and help determine whether to file for bankruptcy before or after your divorce petition. The firm is proud to serve clients across Tampa, Jacksonville, Miami, and Orlando, Florida, as well as Columbus, Atlanta, and Macon, Georgia.
Filing Jointly
In the state of Florida, couples who are legally married are eligible to petition for bankruptcy together, known as "joint bankruptcy." Below are some benefits of joint bankruptcy filing in Florida:
It allows you and your partner to retain more assets and property.

It helps reduce divorce issues to be resolved in court.

It helps save court costs and attorney fees.

It makes it possible to streamline and manage the entire bankruptcy process.

You will be eligible for twice the number of exemptions.
In addition, joint bankruptcy is more efficient and convenient. You and your partner only have to file one bankruptcy petition. However, a joint bankruptcy filing can have a negative impact on both spouses' credit ratings. Also, only one spouse will be eligible to file if the other party petitioned for bankruptcy recently.
Filing Separately
Alternatively, married couples in Florida may decide to file their bankruptcy petition simultaneously as separate entities or as an individual. Filing bankruptcy individually offers the following benefits:
Helps protect more assets and property.

Eliminates some of the general unsecured debts of the indebted spouse.

Helps preserve the good credit rating of the non-filing spouse.

The separate property of the non-filing spouse isn't affected.
A wise attorney can speak with you about the benefits of filing your bankruptcy petition separately or together with your spouse and help determine whether you should file for bankruptcy before or after your divorce.
Which to File First
To determine which should come first between bankruptcy and divorce, here are some factors to consider:
Your Joint Income: Eligibility for Chapter 7 bankruptcy in Florida requires that your income is lower than the state's median income for your household size. If your joint income is higher, you may consider filing for divorce before bankruptcy.
Marital Debts: During property division, the Florida court will divide both the couple's accumulated assets and debts equitably. You may be able to eliminate some or all of the joint marital debts by filing for bankruptcy before divorce.
Joint or Separate Filing: Generally, filing bankruptcy jointly can help streamline the bankruptcy process and reduce paperwork, court courts, and attorney fees. The only way to enjoy these benefits is by filing for bankruptcy before divorce.
Retain More Assets: Also, couples are able to retain more assets and property through a joint filing. This can be achieved by filing joint bankruptcy prior to filing for divorce.
A knowledgeable attorney can help decide the ideal option for your unique situation and educate you about the impact of bankruptcy on property division in your divorce.
Property Division
Bankruptcy eliminates some or all of your general unsecured debts. Thus, making the division of property even simpler. Also, you will retain your exempt assets, including your motor vehicle, primary home, household appliances, furniture pieces, and clothing.
Additionally, spouses filing jointly in Florida may be able to double the exemption amounts. Hence, if you have more assets than can be exempted in a joint bankruptcy, you should consider filing for bankruptcy jointly before your divorce.
Discharge of Debt
However, there are several difficulties involved in dividing marital debts and liabilities in a divorce. If your estranged spouse fails to settle their debts, you may be held responsible for the debts. Conversely, if you help settle such debts, you may find it challenging to recover your money from your ex-spouse. The best way to mitigate or avoid possible issues regarding marital debts is by filing for bankruptcy before divorce.
Legal Guidance You Can Trust
Dealing with divorce and bankruptcy concurrently usually involves several complex processes. The bankruptcy process may not affect divorce, child custody, or child support action, but it will delay the division of assets until the bankruptcy case is complete. Therefore, if you're thinking about filing for bankruptcy when facing a divorce, consulting with a well-informed bankruptcy attorney is imperative for clear direction and to help you decide what is right for your individual circumstances.
Attorney David Blazek has the comprehension and resources to advise individuals and families through challenging bankruptcy matters involving divorce. He can examine all of the facts of your case, decide whether to file for bankruptcy jointly or separately and which one – divorce or bankruptcy – should come first. Also, Attorney David Blazek has the tools to instruct you through every legal process involved in your bankruptcy proceedings, help you achieve financial stability, and make intelligent decisions.
Contact The Law Offices of David K. Blazek, P.C. today to arrange an easy case assessment with a dedicated bankruptcy lawyer. The firm is proud to serve clients across Tampa, Jacksonville, Miami, and Orlando, Florida, as well as Columbus, Atlanta, and Macon, Georgia.