Medical Debt & Bankruptcy
Nov. 16, 2022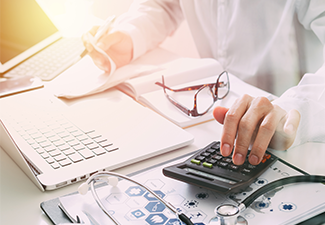 A medical emergency, chronic illness, or unpaid medical bills can accumulate and make a person become overburdened with medical debts. Thankfully, bankruptcy is among the promising solutions to achieve debt relief when overwhelmed with medical debts. A strategic Florida bankruptcy attorney can help you understand how filing for bankruptcy can help eliminate or pay off your medical debts.
Attorney David K. Blazek is committed to offering reliable advocacy and clear legal direction to clients in medical debt and bankruptcy-related matters. He's available to discuss your situation, explore your options to achieve medical debt relief, and educate you about the benefits and downsides of filing for medical debt bankruptcy. The firm is proud to serve clients across Tampa, Jacksonville, Miami, and Orlando, Florida, as well as throughout Atlanta, Macon, and Columbus, Georgia.
Understanding Medical Debts
Medical debt is any debt incurred by individuals due to medical bills, health care services, surgery, and other related expenses. When medical bills go unpaid, they often accumulate and become overwhelming. Some common causes of medical debts include:
Unpaid medical bills

Poor medical insurance coverage

High cost of treatments

Medical debts from high insurance premiums

Change in medical coverage

High deductibles

High cost of drugs, medications, or prescriptions

Medical debt from injury, chronic or severe illness.
Fortunately, you may be able to eliminate or discharge your medical debts by filing for bankruptcy.
Will Bankruptcy Discharge Medical Debt?
Essentially, medical bills are often classified as non-priority unsecured debts. Such medical debts will be eliminated or discharged by filing for Chapter 7 and Chapter 13 bankruptcy. Depending on the bankruptcy chapter you file for, you may not need to pay back all or part of your medical debts. Unfortunately, a bankruptcy discharge or unpaid medical debts can have a negative impact on your credit score.
Does Medical Debt Affect My Credit Score?
As mentioned earlier, unpaid medical debts can affect your credit score negatively. When you fail to pay your medical bills, the healthcare provider can turn the medical debt to collection agencies. The debt collector or collection agency will reach out to you in an effort to recover the debt.
Furthermore, any unpaid medical debt – more than $500 – will be reported on your credit report after one year. However, once you pay the medical debt, it will be removed from your credit reports immediately.
Conversely, if you're unable to pay the medical debts and you file for bankruptcy, it will affect your credit score. Depending on the type of bankruptcy chapter you file, your credit score will reduce anywhere from 160 to 220 points. Also, the bankruptcy filing will remain on your report for many years. Thus, making it difficult for you to qualify for future loans.
Chapters That Help With Medical Debt
Additionally, filing for Chapter 7 or Chapter 13 bankruptcy can help eliminate your medical debts and achieve financial relief.
Filing Chapter 7 for Medical Debt
Chapter 7 bankruptcy is designed to help consumers wipe out most of their general unsecured debts, such as credit cards, medical bills, and personal loans. The Florida court will appoint a trustee to oversee your case. Essentially, Chapter 7 will discharge all of your medical debts. However, you must pass the Bankruptcy Means Test to be eligible for Chapter 7.
Filing Chapter 13 for Medical Debt
Alternatively, Chapter 13 bankruptcy may be available to regular income earners who are overwhelmed with medical debts. Through Chapter 13, the consumer may propose a structured repayment plan – over 3 to 5 years – to settle their medical debts using their future earnings. Essentially, you will only need to pay back a part of the medical debt through the repayment plan. At the end of your bankruptcy case, the Florida court will discharge any remaining medical debt.
Pros & Cons of Filing for Medical Debt Bankruptcy
Here are some benefits and downsides of filing for medical debt bankruptcy:
Pros
It eliminates all or most of your medical debts.

It helps you achieve relief from medical bills.

You do not have to deal with debt collection agencies.

It activates an automatic stay. This will prevent the debt collector from collecting money, seizing your property, garnishing your wages, or taking legal action against you.

You may be able to settle your medical debts for less than you owe.

You'll get the financial fresh start or clean slate you deserve.
Cons
It may negatively affect your credit score.

You may lose some of your assets.

It may not be a great option if you owe other non-dischargeable or secured debts.

It will make it more difficult for you to get medical treatments.
A wise attorney can determine whether filing for medical debt bankruptcy is right for you and help you prepare for bankruptcy effectively.
Turn to Trusted Legal Counsel
Filing for medical debt bankruptcy in Florida usually involves a lot of complex processes. Understanding your available options, the benefits and drawbacks, and legal requirements of each chapter is crucial to make informed decisions. Attorney David K. Blazek is ready and poised to advise and guide clients through the complexities of medical debt bankruptcy.
As your legal counsel, David can assess the amount of medical debts you owe and determine whether you can achieve relief through Chapter 7 or Chapter 13 bankruptcy. Also, he will help complete and submit your forms and supporting documentation, file your bankruptcy petition, and represent you during the court proceeding. Also, Attorney David K. Blazek will work diligently with the medical debt collectors to negotiate a feasible repayment plan and ultimately help you achieve debt relief.
Contact The Law Offices of David K. Blazek, P.C. today to arrange a simple case assessment with an experienced bankruptcy lawyer. Attorney David K. Blazek has the personalized legal counsel and assistance you need in your case. The firm is proud to serve clients across Tampa, Jacksonville, Miami, and Orlando, Florida, as well as throughout Atlanta, Macon, and Columbus, Georgia.